vtol flying wing Eagle Hero composite material for industrial UAV surveillance
vtol flying wing  is a vertical take-off and landing (VTOL) aircraft is one that can hover, take off, and land vertically. This classification can include a variety of types of aircraft including fixed-wing aircraft as well as helicopters and other aircraft with powered rotors, such as cyclogyros/cyclocopters and tiltrotors.[1] Some VTOL aircraft can operate in other modes as well, such as CTOL (conventional take-off and landing), STOL (short take-off and landing), and/or STOVL (short take-off and vertical landing). Others, such as some helicopters, can only operate by VTOL, due to the aircraft lacking landing gear that can handle horizontal motion. VTOL is a subset of V/STOL (vertical and/or short take-off and landing). Some lighter-than-air aircraft also qualify as VTOL aircraft, as they can hover, takeoff, and land with vertical approach/departure profiles. Electric and hybrid-electric vertical takeoff and landing aircraft eVTOL is a technology being used in the quest for fully autonomous passenger air vehicles (PAV). Besides the ubiquitous helicopter, there are currently two types of VTOL aircraft in military service: craft using a tiltrotor, such as the Bell Boeing V-22 Osprey, and another using directed jet thrust, such as the Harrier family and new F-35B Lightning II Joint strike Fighter (JSF). In the civilian sector currently only helicopters are in general use (some other types of commercial VTOL aircraft have been proposed and are under development as of 2017). Generally speaking, VTOL aircraft capable of STOVL use it wherever possible, since it typically significantly increases takeoff weight, range or payload compared to pure VTOL.
Eagle Hero is a big VTOL that has a 3500mm wingspan. The Eagle Hero VTOL is made of full composite material and features a Honeycomb structure, which makes the VTOL both very light and strong. And the quick-detach design also makes it easy to assemble and disassemble in the field. The Eagle Hero VTOL has a very big inner space for one 8S 8000mAh LiPo battery and one 6S 56000mAh Li-ion battery. The 8000mAh LiPo is for the four lifting motors and the 56000mAh battery is for the push motor. Take-off weight of this big VTOL is 9kg, so the Eagle Hero can fly at a high speed with very low power consumption. The max take-off weight of Eagle Hero is about 15kg, with 15kg weight the VTOL can reach 2 hours endurance. With 2 hours flight time it can cover a big area. The Eagle Hero can fly at a very high speed, the highest speed is about 110km/h, and the cruising speed is about 20m/s. And it can launch directly from an area as small as 5x5m. With a 1.5kg payload the Eagle Hero VTOL can load various zoom cameras like Foxtech series zoom cameras: optical zoom camera and infrared zoom camera. This aircraft can be equipped with advanced control system, rtk gps, ppk system to do mapping jobs at centimeter level; and also could load a zoom camera to do long range inspection coupled with long range video system and control system.
Specification:
Wingspan: 3500mm
Length: 1610mm
Height: 300mm
Wing area: 70dm2
Max Take-off weight: 15kg
Take-off weight: 9kg(w/o battery, payload)
Max load: 6kg (included battery)
Endurance: 2 hours(15kg take-off weight)
Cruising speed: 20m/s
Max speed: 110km/h
Stall speed: 18m/s
Battery: 12S 5000mAh, 6S 40000mAh-60000mAh
Take-off/landing: VTOL
Features:
– Full composite material, Honeycomb structure
– Industry Standard Tough Structure
– Dual battery power, more safe
– Compatible with full-featured PC ground station, and open source autopilot system
– Easy for assemble in the field
Recommended Set-up:
Thrust Motor:  5322 KV430 ,  100A ESC,  18×8 Propeller for Thrust Propeller
VTOL Motor : 6212 KV180  Motor,  80A ESC,  2055 Lift Propeller
NOTE: THE PRICE IS JUST KIT, WITHOUT ANY ELECTRONIC!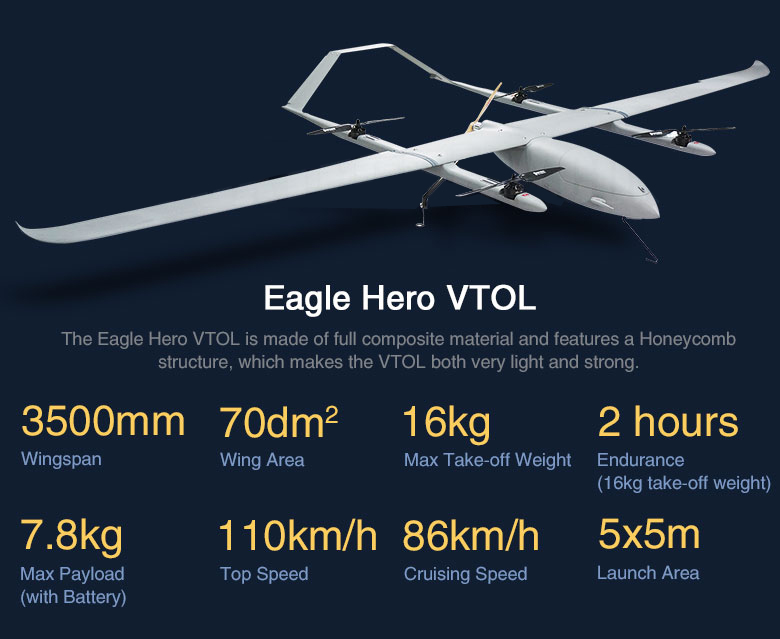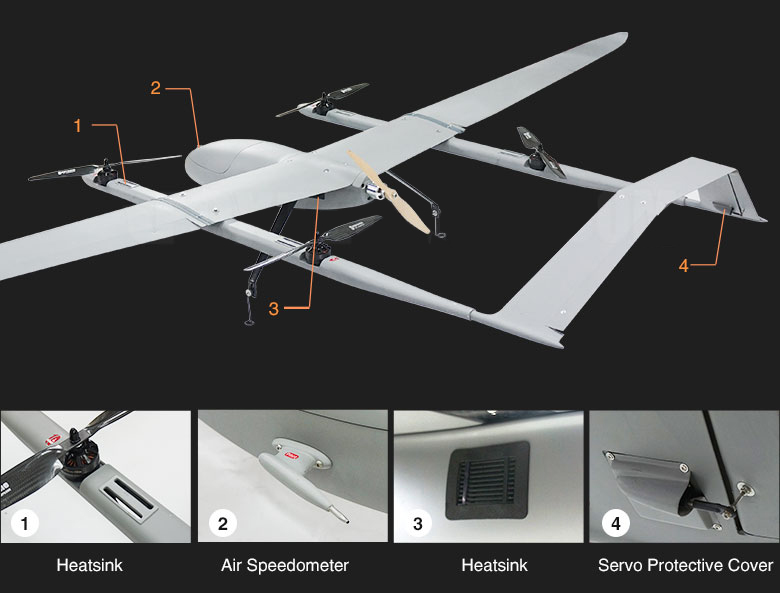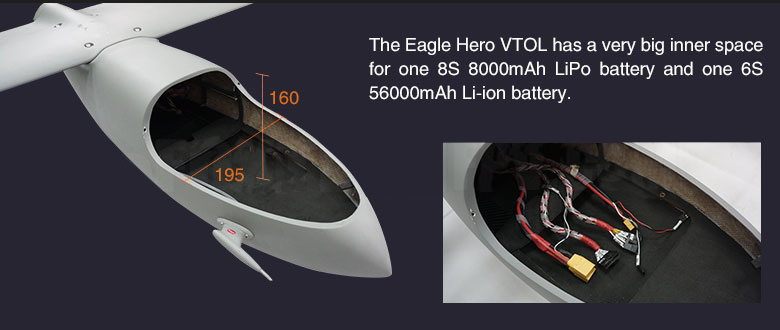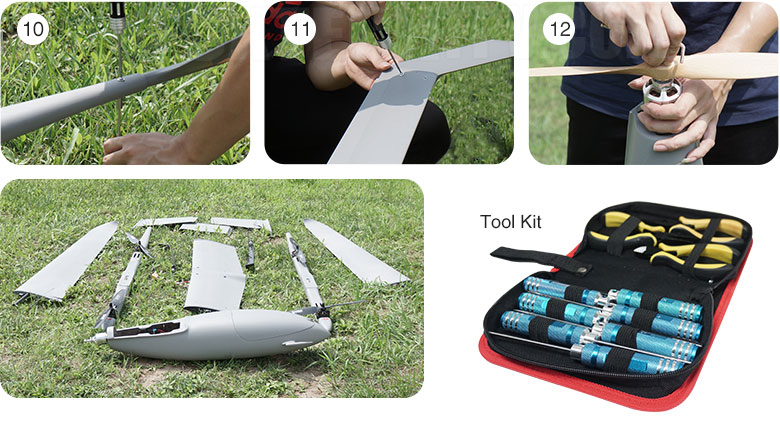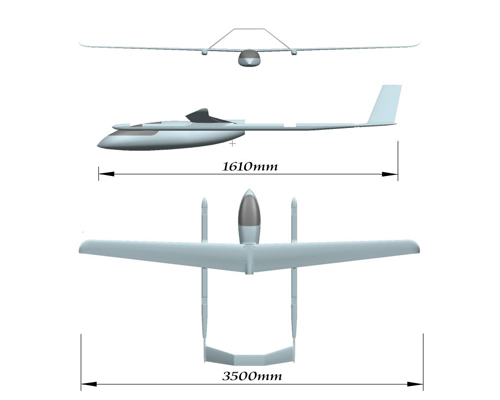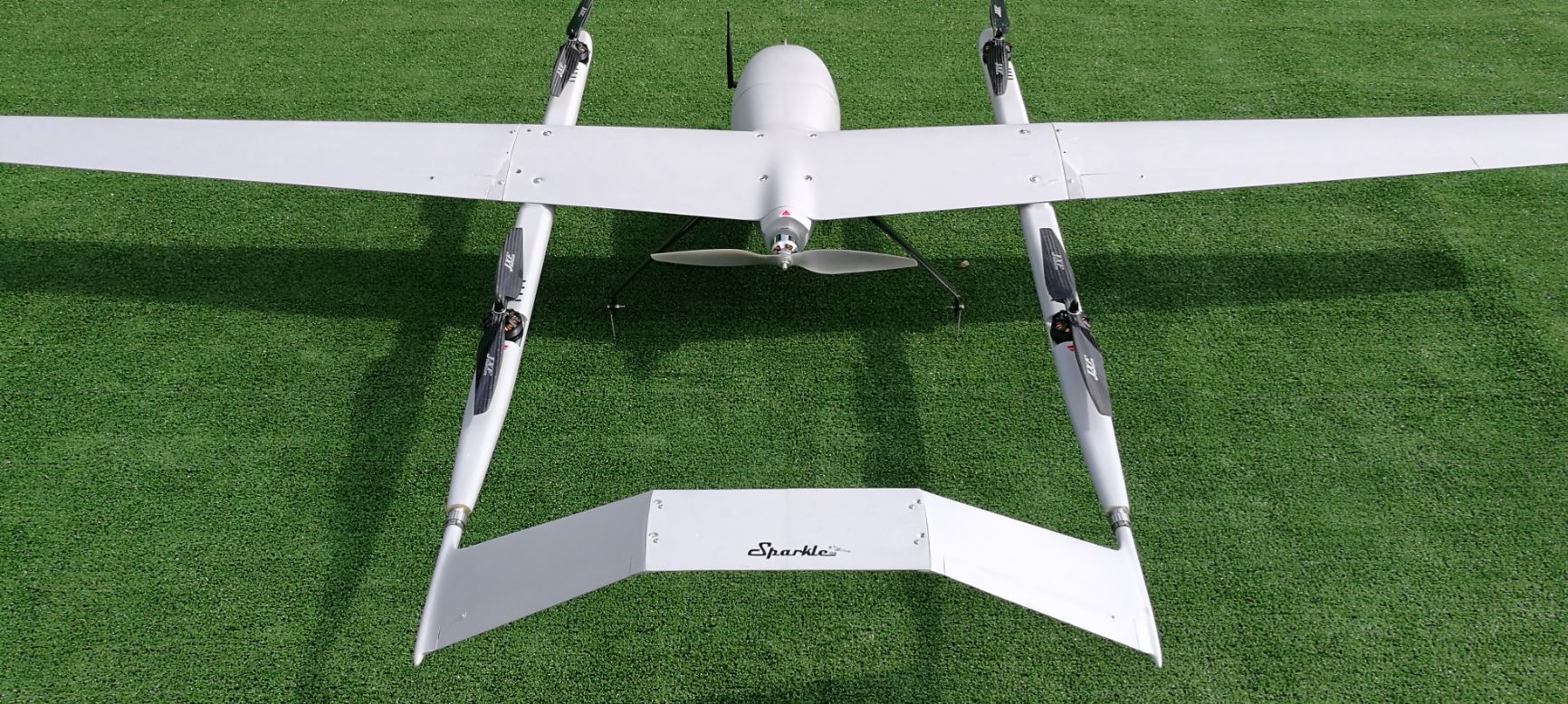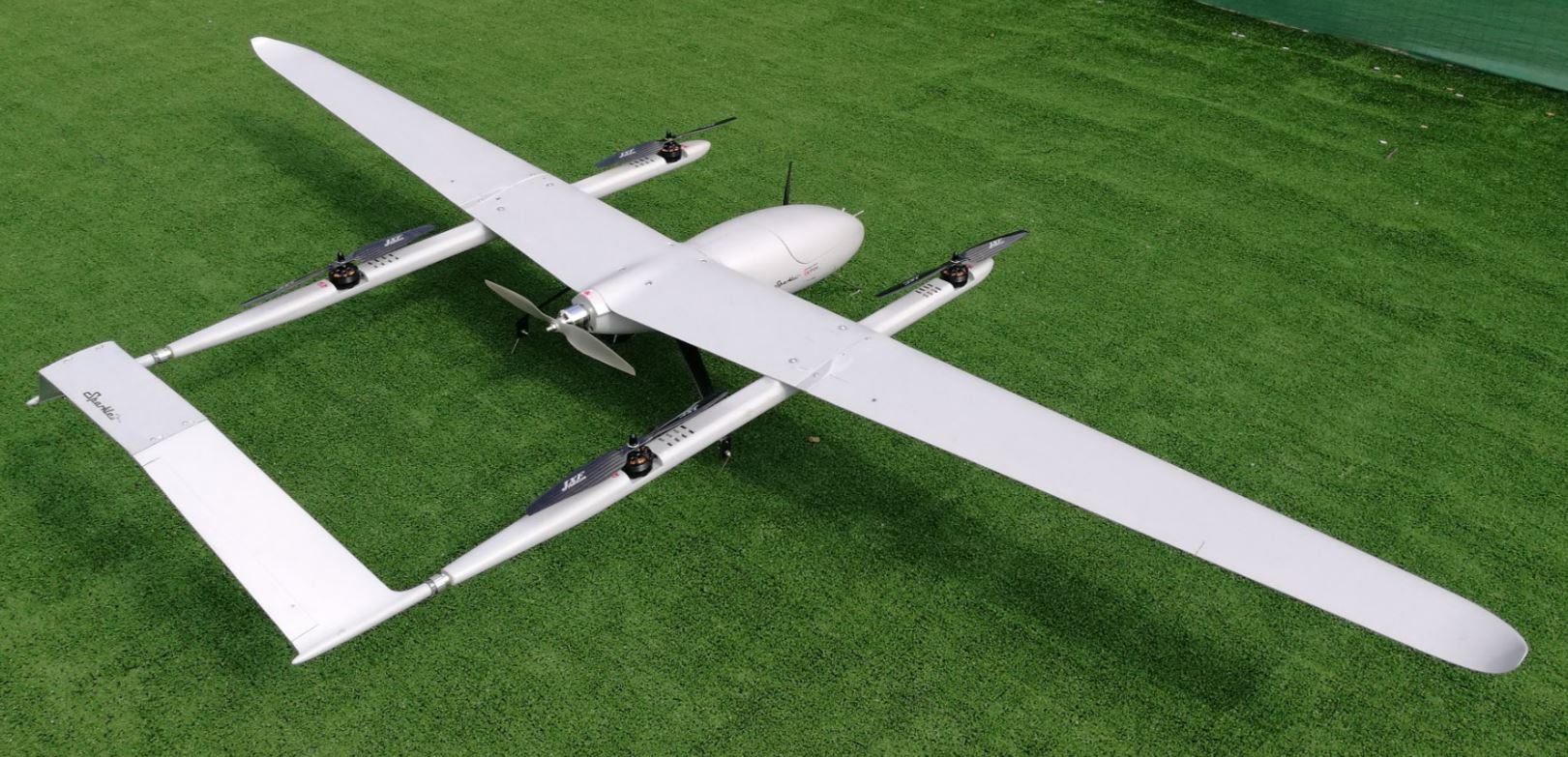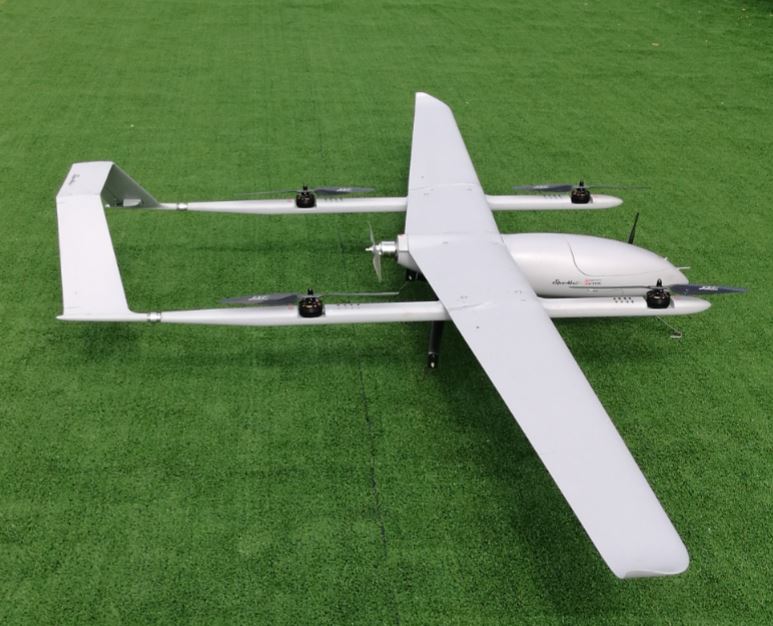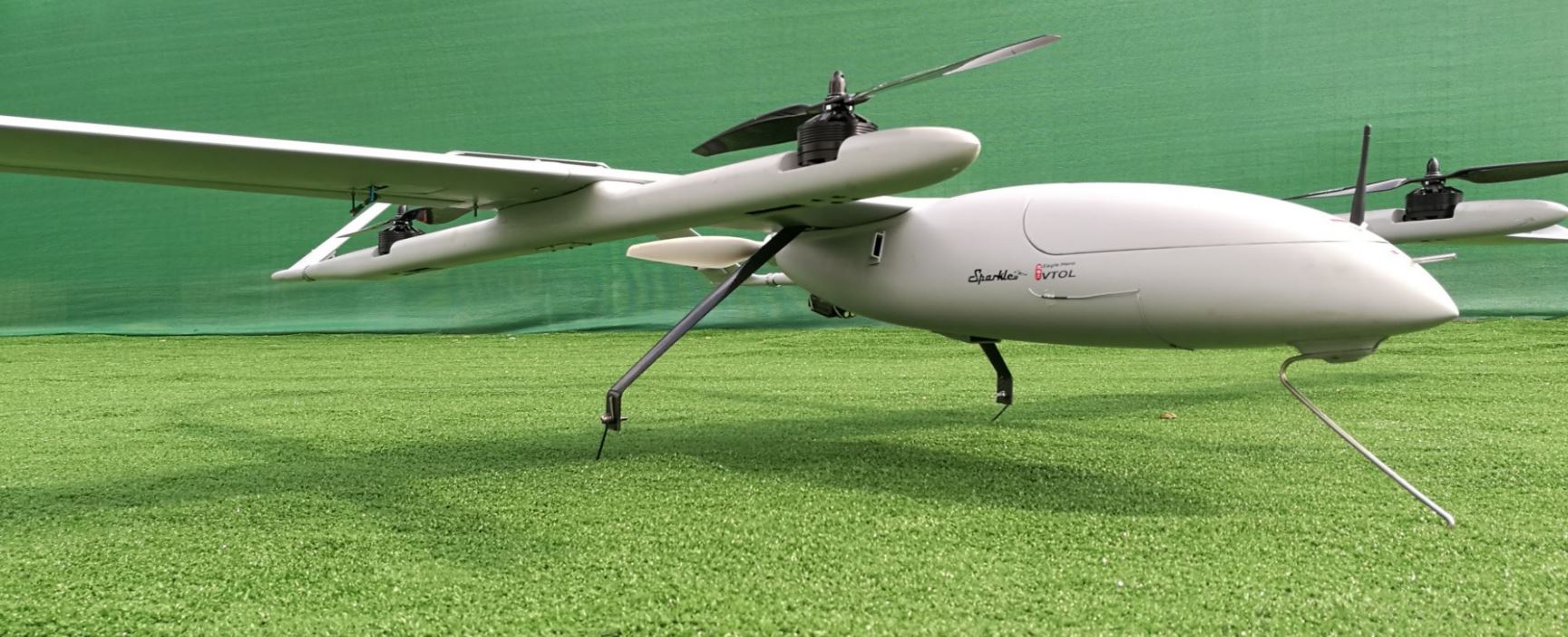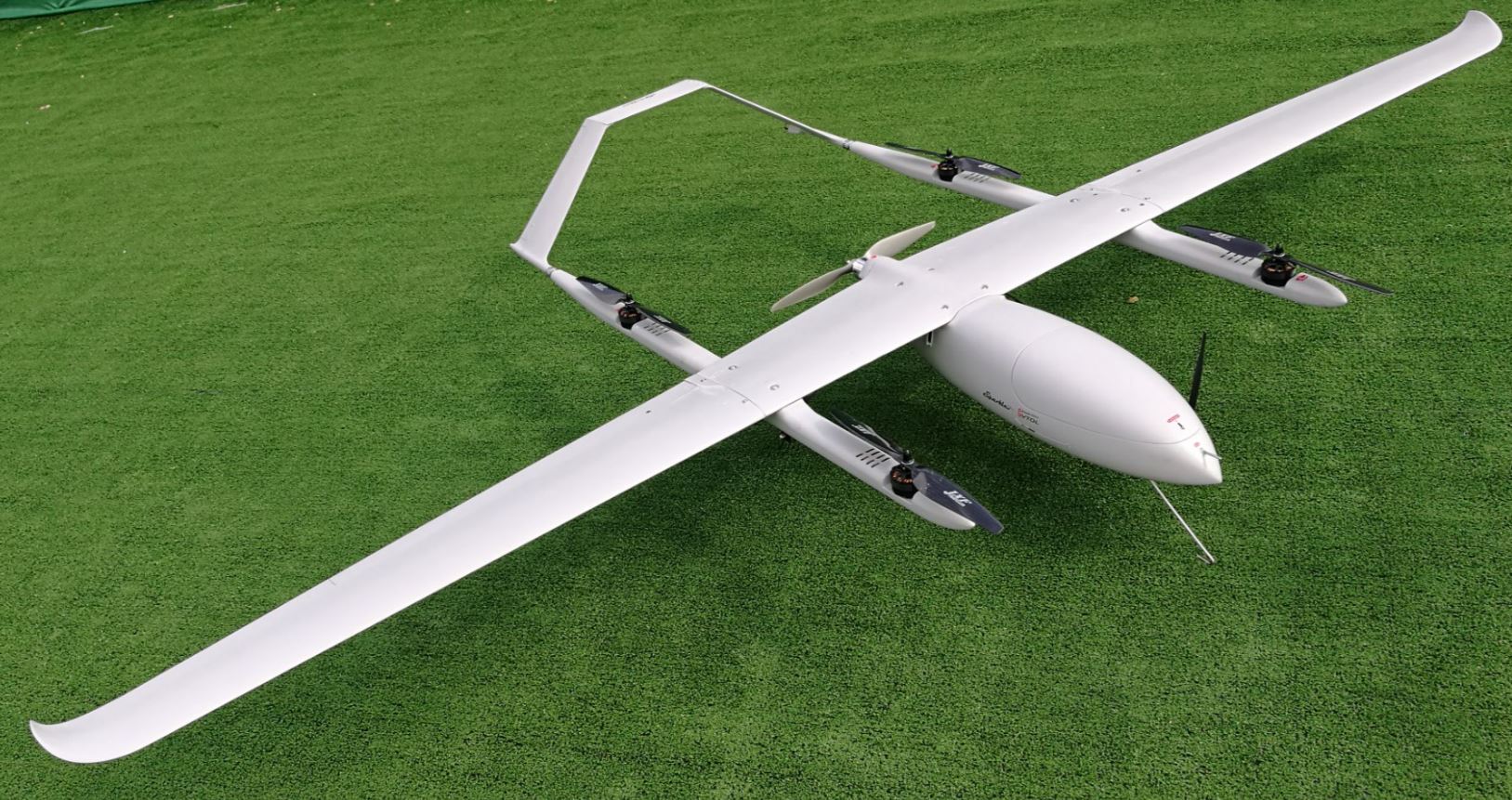 Loading special box capacity for blood delivery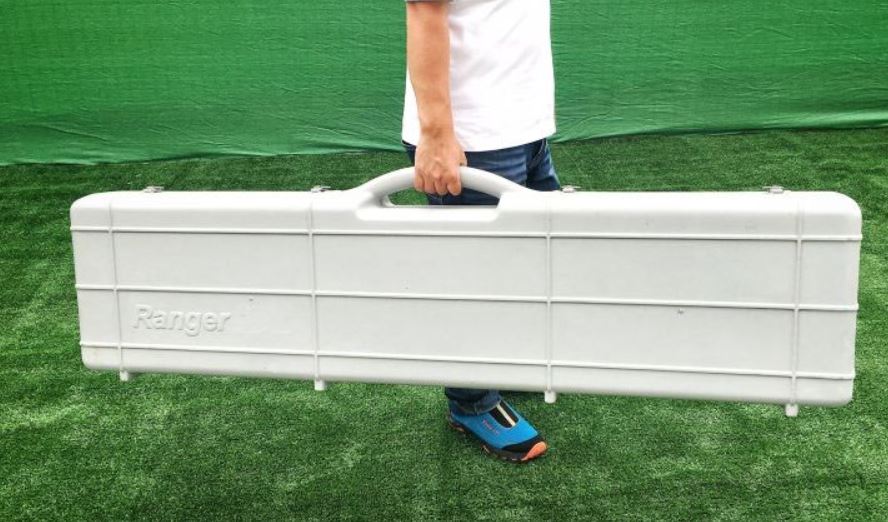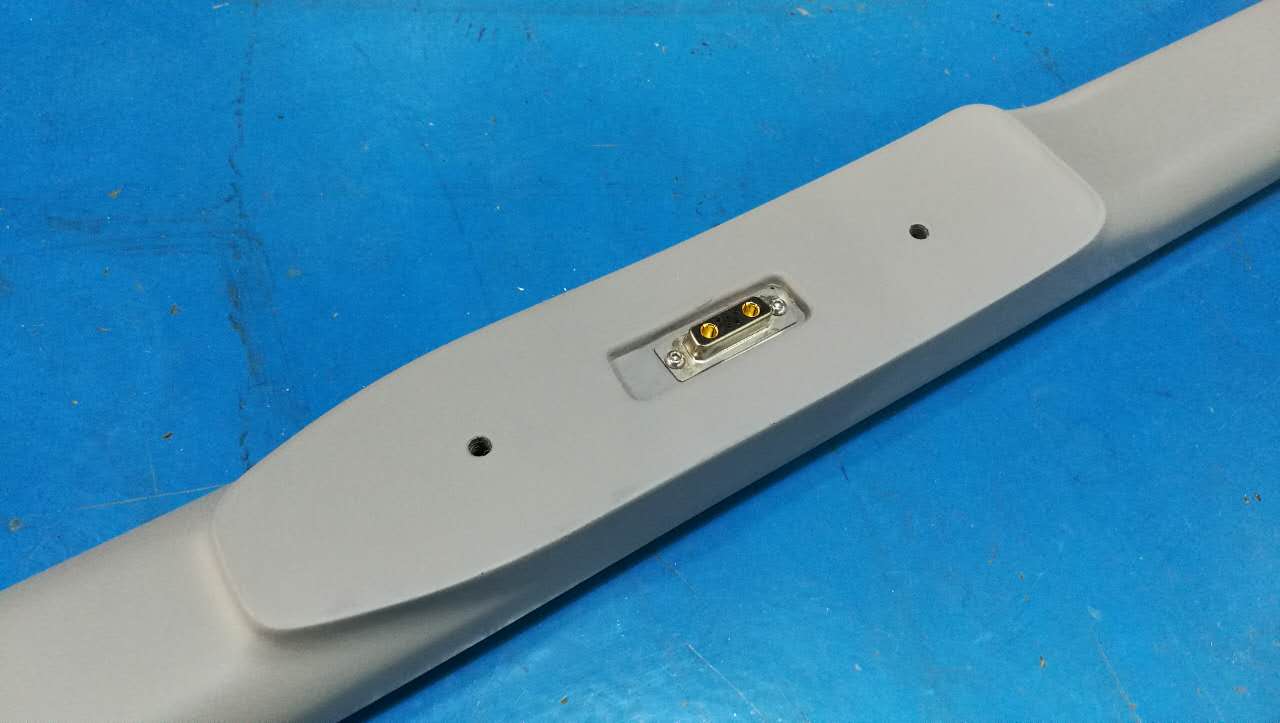 Eagle Hero stall speed test at 13ms and auto recovery
Eagle Hero VTOL Live Fly Demonstration in UMEX Abu Dhabi, UAE
Eagle Hero VTOL Mission for Target Tracking