FDAD-10L(6X)-W 6 Axis 10L crop spraying drone sprayer Frame Kit
Drone sprayer FDAD-10L(6X)-B 6 axis 10L agriculture drone, The FDAD-10L(6X)-B Series agriculture drones continues the classic design elements of the old E series. It adopts red and blue color matching, a streamlined body design, and the whole body is waterproof, without fear of high pressure washing. The new P series upgrade product adopts a new integrated molding process. Complex to simple, the fuselage is integrated from dozens of original parts into a whole, and the fuselage is made of high-strength and impact-resistant materials, which are strong and anti-fall.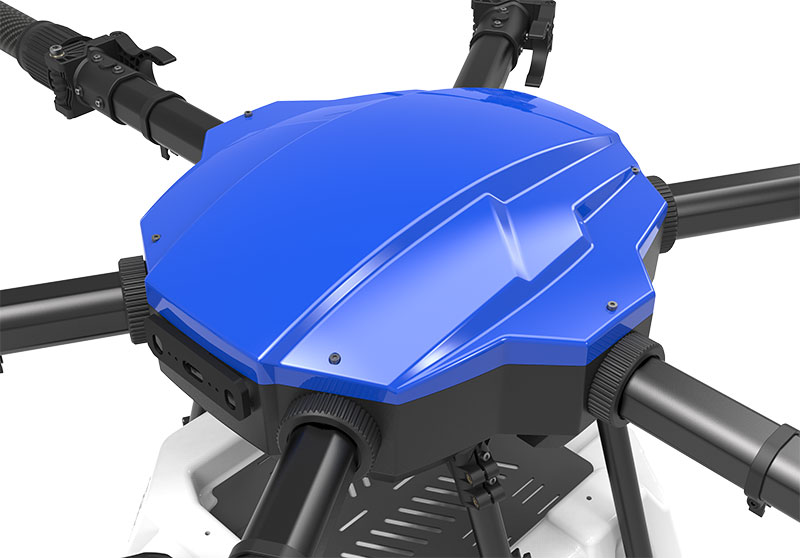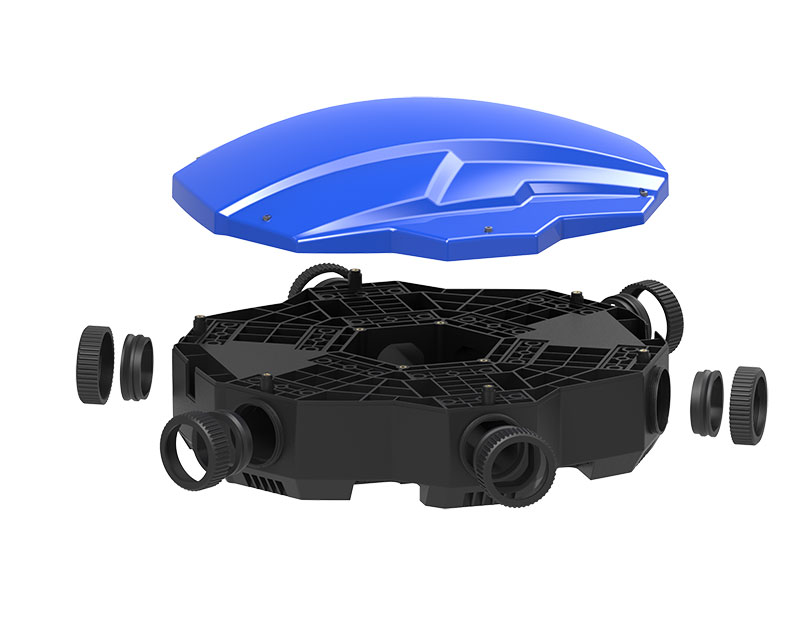 The force-bearing structure of the fuselage adopts a double fixing method of clamping and limiting at many key points, so that the entire fuselage will not cause structural displacement due to long-term use, and it also makes installation and positioning easier.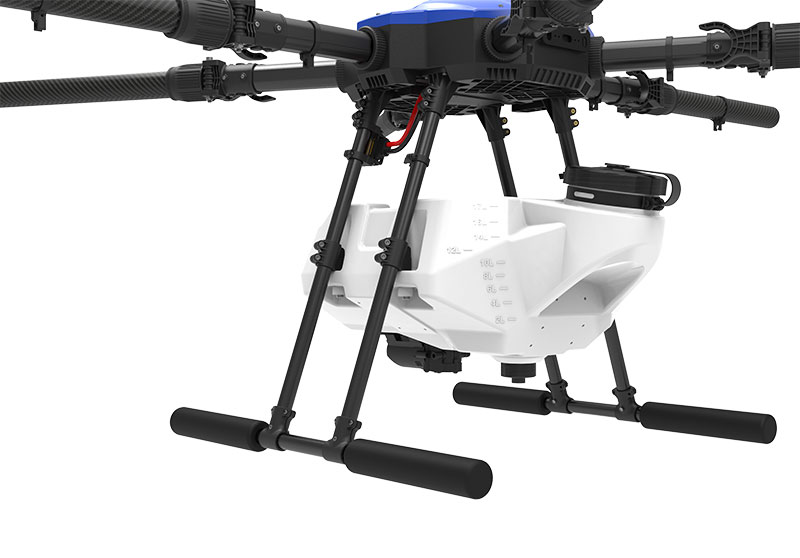 There reserved a detachable camera installation parts in front of the fuselage, which can be installed or closed according to own needs.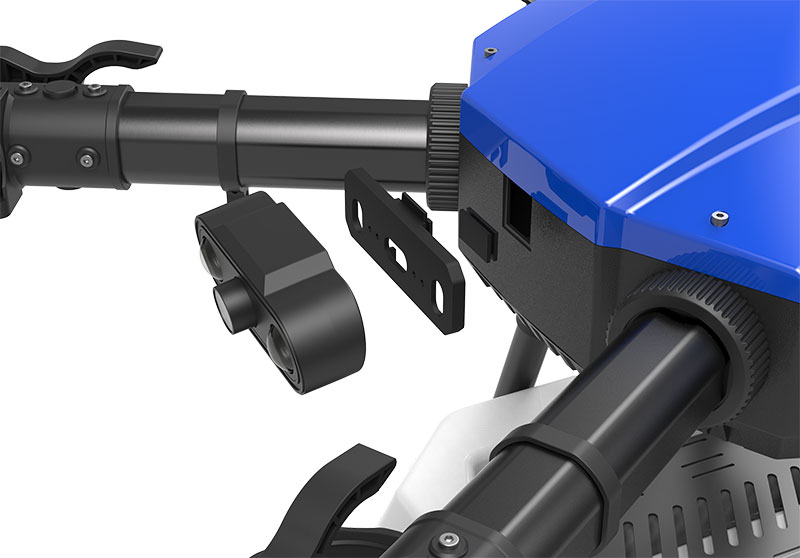 The power distribution board in the center of the fuselage integrates all power supply plugs to separate the power supply from the signal and minimize interference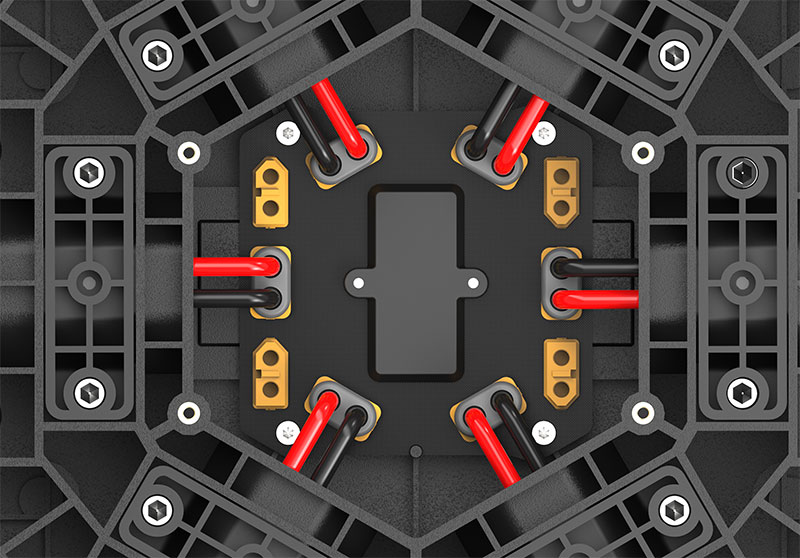 The new product continues the classic foldable body design, using threaded locking and folding parts, which are stable and not loose, and the volume is small after folding, which is convenient for transportation and transition.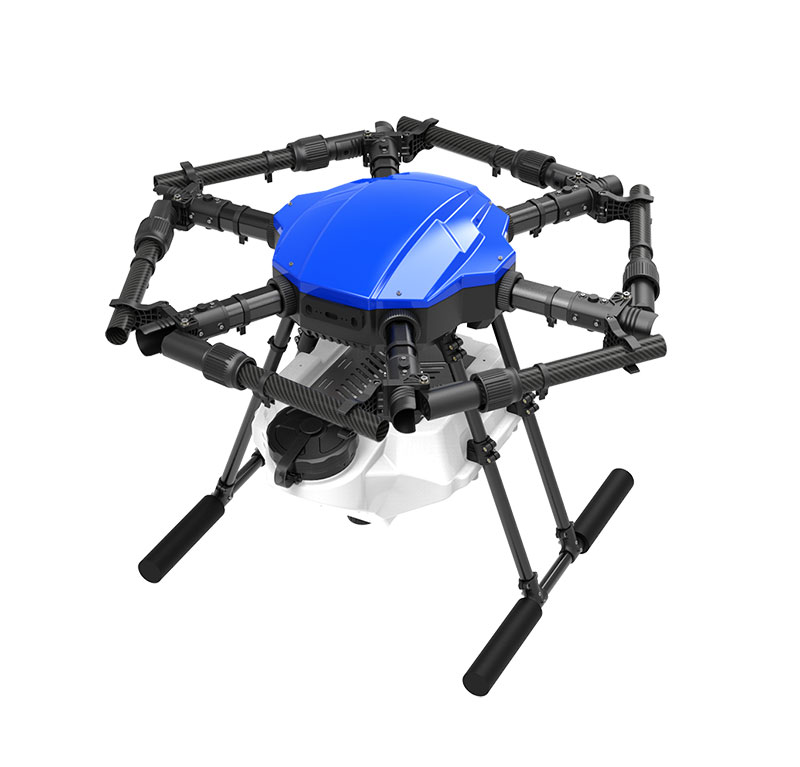 Please note this is just for frame KIT,  Do not include any electronic parts.
Description
wheelbase
1362MM
Unfolded size
1844*1844*628MM
Folded size
648*671*628MM
Tank capacity
10L
Frame weight
6.5KGS
Frame and spraying weight
7KGS
Frame and motor sets weight
15KGS
No-load takeoff weight
18KGS(including 1*16000mAh battery 4.7KGS)
Full load Take-off weight
28KGS
Nozzle
Ceramic sprinkler head imported from Germany/China
Number os nozzles
4pcs
Flight Speed
3-8 Meter /Sec
Spray width
3-6 Meter /Sec
Max spraying flow
1.5-3 kg/min. (Max. 4kg/min.)
spaying efficiency
1.5-3 Acres/Min.
Water Pump Pressure
0.48mPa
Delivery package size
Aluminum Box  860*800*650mm  25kg
Transport volume weight
89kg
The fuselage material
Carbon fiber composite
Max flight time (no load)
10-15min
Max flight time (full load)
5-8min
The tank volume
10L
Working temperature work
  -15°C~45°C
Signal effective range
5km
Flight Control systems
Boying
Dynamic System
Hobbywing X6,Pipe: 40mm
Spraying System
High Pressure Spray
The battery specification
12S 16000mah*1PCS
work power
44.4V(12S)
Charging Time
0.5-1hour
Recharge Cycles
300-500 times
Daily efficiency(6hours)
300-500acres
Storage ambient temperature
For less than 3 months: – 20 ° C ~ 45 ° C
For more than 3 months: – 22 ° C ~ 28 ° C
Hover time
15min(take-off weight 18kg)
8min(takeoff weight: 28kg)
Standby time of remote control
8hrs
Function
1. Android ground station, easy to use / PC ground station, full voice broadcast
2. Router Setting support, Fully Auto Flight operation with A,B Point operation.
3. One Button take-off and landing, More safety and time saving.
4. Contrinue Spraying at Breakpoint, Auto Return when finish liquid and low Battery.
5. Liquid Detection, Break Point record setting.
6. Battery Detection, Low Battery return and Record point setting available.
7. Terrain following Radar, Stable Altitude setting
8. Vibration Protection, Lost Contact protective, Tank empty detect
9. Motor Sequance Detection and Direction detection Function.
10. Dual Pump Mode
11. The night vision function
12. Three anti – one lamp
Main feature
1. Crossfolding Method ,The arms of the FDAD-10L(6X) are folded in a staggered way, minisize the folding size, more convenient for transportation.
2. Integrated Fuselage Frame The fuselage frame of the FDAD-10L(6X)Agriculture spraying drone is formed n one body, which simplify the structure and improve the strength of the frame. Therefore, the FDAD-10L(6X) has good durability and reliability.
3. Quick Release Battery & Tank The water tank of the FDAD-10L(6X)adopts plug-in design, and the battery can be placed vertically in the battery compartment.The size of the battery compartment is 168mm in length, 93mm in width and the height is not limited. Any 12S battery in this size can use on the FDAD-10L(6x) drone. It is convenient to replace the tank and battery.
4. Dustproof and Waterproof The whole drone is dustproof and waterproof, and the waterproof grade reachs IP65. The frame can be washed directly with water.
5. Great Expandability The radar, fpv camera, pump and some other parts can install on the drone.
Below is the picture of the frame KIT.